CT
CL Tang
Realtor & Certified Relocation Specialist
206-972-2702
As a John L. Scott broker, my mission is transactional excellence and client satisfaction. That means I work tirelessly to make your home buying or selling process as efficient, stress-free and lucrative for you as possible.
Meet CL
Chiu Lung Tang (CL) has been in real estate since 2004. He brings an advanced skill set in both marketing and technology. He spent five years as a marketing manager for a local high tech company before becoming a broker.
Based in the John L. Scott Redmond office, CL provides first-class service to his clients. He is fluent in Chinese and has worked with local, national and international clientele. CL primarily works with sellers and buyers looking for single-family homes, investment properties and because he works with families, he pays special attention to homes in great school districts. CL focuses on the Eastside, in Redmond, Bellevue, Sammamish, Kirkland and Bothell.
CL embraces the marketing tools that JLS has to offer, including Market Ready, Day One™ and the listing launch process! He also uses Matterport and drone photos and promotes his listings via Facebook, LinkedIn and Twitter.
CL gives back to the John L. Scott Foundation through each commission. CL's son was born prematurely and was cared for at Seattle Children's Hospital as an infant. Because of this, CL donates a portion of each of his commissions to the John L. Scott Foundation and the work they do with Seattle Children's Hospital.
In his spare time, CL enjoys traveling, camping and snowboarding.
---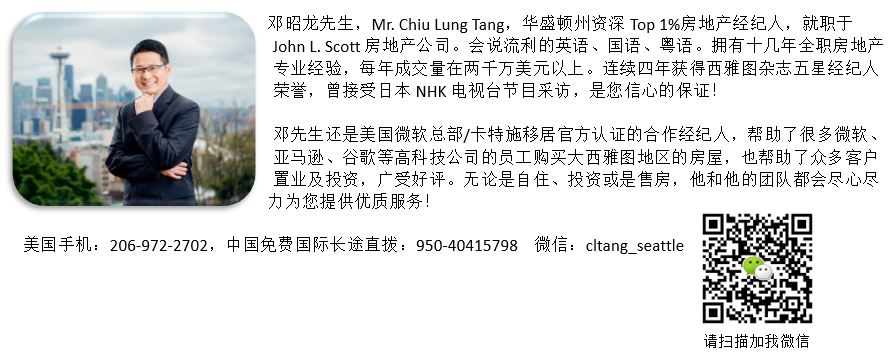 Redmond
Redmond, Washington, is probably best known as the home of Microsoft. But if that's all you know about our gem of a city, you're missing a lot. Marymoor Park, which hosts concerts in the summer, also features a climbing rock, sports fields, a cricket pitch, a huge off-leash dog park, tennis courts, a community garden and an outdoor theater. Redmond is also home to more than 17 miles of hiking and biking trails. Known as the bicycle capitol of the Northwest, Redmond is home to the state's only velodrome and each July, the city hosts a bike race around Lake Sammamish. This race is part of Redmond Derby Days, which also includes a parade, live entertainment, a carnival with rides, and fireworks at dusk. The top-notch schools in Redmond draw a lot of families to our community. And our library is world-class, the second largest in the King County Library System. Redmond itself is home to restaurants, breweries and shopping to rival any major city, but if you are craving the bustle, both Seattle and Bellevue are a few minutes away. Though one visit to the outdoor mall called Redmond Town Center may convince you you never need to leave the city again. If you are interested in learning more about Redmond, let us know. We'd love to show you around and help you find your perfect home.
---
"It was such a great experience working with CL on closing my first property! He made the whole process a breeze and ensured that I knew what everything was going on from the start to the end. He always checked in with me on the process so that we could close on time. Most importantly, his responsiveness to any questions I had was amazing! No matter what time/day it was, I could count on CL providing me an answer. I would 100% recommend CL to anyone looking for their dream home!"
— kzzhang12
---
"After we decided to buy our house in Seattle, we have contacted five agents, and finally we chose CL. Not only because he is a mandarin speaker, that can help the communications without language barriers, but for his personality. CL is an agent with really good job responsibility, carefulness, patience and earnestness. From the date we selected the house, waiting to build, until the house closed last week. More than one year's contact make us feel very lucky that we chose CL as our agent.
At the beginning, he did not push hard, or eager to sell like the other agents we contact before. He first learned about our housing needs and our family status, then provide our better options according to our needs. For example, we were thrilled to see a house that matched our budget, and CL helped us do the research calmly and remind us that there is radiation in the high-voltage lines nearby, which may have impact on our children. And also because we have two children, CL provides us better housing options for the school district. Since we do not have any experience of buying house and living in US, we are complete hopeless at buying process and some basic life knowledge as newcomer. CL helps us choose and buy our dream house, guide us customize the decoration, get more rights from the builder, even help us buy furniture and so on, he provide us so many other services and helps, which is far beyond what a agents should offer during his job. His help give us confidence and made us feel less afraid of the new environment.
No amount of words can express our gratitude to CL. If you would like to make your home in Seattle, I sincerely recommend CL, you will also feel lucky to get to know him and choose him as your agent."
— Muying0412
---
"CL was my real estate agent when I first purchased my townhouse back in 2014, so when it comes to purchasing a new home as my family grows, I reached out to CL again! He is extremely professional, really tried to understand my needs and analyzed pros and cons of each houses to us. We never felt pushed to make a decision and he always has our best interests in mind. We have made 2 offers on 2 difference houses in this competitive market before landing on the current new house! He and his team ensured the loan and closing process is a smooth one and keep us updated every step of the way! He even consulted us on the rental side of things and gave us a lot of good advice as we turned our first home into an investment property! We will recommend CL wholeheartedly to all our friends!"
— zuser20140509233407446
---